Street Vendors
What is a Street Vendor?
A street vendor is involved in the sale of prepared, unprepared, prepackaged, or unpackaged food of any kind on private or public property including streets, sidewalks, roadways, highways, parkways, and alleys.
Types of Health Permits for Street Vendors
Sidewalk Vendor Permit
A sidewalk vendor is a person who sells food on a public right of way, sidewalk, or other pedestrian paths using a stand, display, showcase, rack, or non-motorized transport such as pedal-driven cart, pushcart, or wagon. These types of vendors can only sell prepackaged nonpotentially hazardous foods. Preparation of food/drinks is not permittable. These vendors are divided into two categories:
• Stationary Vendor: Sells food in a fixed location without assistance from a transport.
• Roaming Vendor: Sells food while moving from place to place by foot or by nonmotorized transport (food cart).
Watch this video to learn more about Street Vending options and permits in San Bernardino County.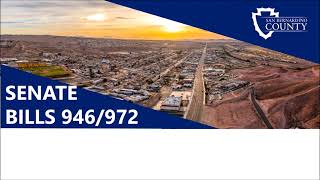 Street Vending Workshop Presentation (English)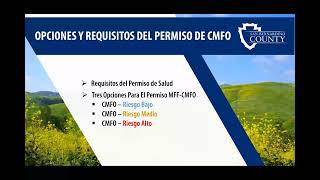 Street Vending Workshop Presentation (Spanish)
For any questions about this presentation, contact Leilah Kelsey at Leilah.Kelsey@dph.sbcounty.gov
Once you have determined the health permit you need, complete the requirements for your food operation before you submit the health permit application.
Keep reading below to see details about each type of operation.
Mobile Food Facilities
Mobile Food Facility
A Mobile Food Facility (MFF) is any vehicle or cart used with a commissary or other permitted food facility where food is sold or distributed.
A Commissary provides a kitchen or storage space to Mobile Food Facilities (MFF), Mobile Support Units (MSU), or vending machines where any of the following occur:
Food, containers, or supplies are stored.
Food is prepared or prepackaged to sell or give away at other locations.
Utensils are cleaned.
Liquid and solid wastes are disposed, or potable water is obtained. (CRFC Section 113751)
All types of MFFs will require an Authorization for Use of Restroom Form signed by the vendor and the business owner where the restroom is located.
A plan approved from the Plan Check program is required for all MFFs, except for those selling prepackaged ice cream and prepackaged nonpotentially hazardous food.
Additional Commissary Information
MFF – Cart/CMFO
Senate Bill 972 (SB 972) provides a new option known as the Compact Mobile Food Operation (CMFO) for mobile food facility street vendors. This is a specialized cart that requires a consultation with our Plan Check program, and a valid health permit where food is prepared, or potentially hazardous food is being sold or given away.
A Compact Mobile Food Operation (CMFO) is a mobile food facility that operates from a person or from a pushcart, stand, display, pedal-driven cart, wagon, showcase, rack, or other nonmotorized transport. CMFOs can conduct limited food preparation of nonpotentially hazardous and potentially hazardous food. Meat cannot be cooked from the raw state. Health and safety requirements will vary based on the menu and the type of operation. Multiple sinks and mechanical refrigeration may not be required. (CalCode Chapter 11.7)
An approved plan from the Plan Check program, a valid health permit, a Authorization for Use of Restroom Form, and an approved commissary agreement are required for all CMFOs where food is prepared, or potentially hazardous food is being sold or given away. All of these must be obtained prior to operation.
Note: If any vendor operation is less than 25 square feet, and only sells or gives away commercially prepared, prepackaged, nonpotentially hazardous food, including whole, uncooked produce, a health permit is not required.
If you have any questions about the types of permits available, or to find out which operation applies to you, please call or text 800-442-2283.
If you are not eligible for these permits, you may be eligible to participate in community events with a Temporary Food Facility Permit. For more information, read below.