Mosquito & Vector Control
What We Do
The Mosquito and Vector Control (MVC) Program protects public health by controlling mosquitoes and other vectors that spread disease. Mosquitoes, ticks, and rodents are not only a nuisance, but are a major threat to public health. This program controls disease vectors and nuisance pests using effective and environmentally sensitive methods, and reduce the risk of vector-borne diseases such as West Nile virus and plague.
MVC conducts inspections and treatment of water sources to control mosquito breeding or emerging vector-borne diseases that may become a threat to public health. MVC responds to service requests for community control of vectors such as, (mosquitoes, ticks, rodents, etc).
What Vector Control District Am I In?
Please visit West Nile Zip Locator to find out what vector control district you are in.
Vector Control Inspection Reports
To view our vector control inspection reports, visit our EHS Customer Service Portal. Click on "View All Inspections" and search by city or facility name, and permit type (Poultry Ranch or Riding Academy).
To receive links to our inspection reports by email, register for an account. As a registered user, you can receive notification emails when inspection reports for a specific facility are published. You will also have online access to follow-up information related to any complaints you submit. Inclusion is our mailing list is FREE and you can opt out at any time by clicking the "Unsubscribe" link in the footer of our e-mail messages.
What is a Vector?
A vector is any insect or arthropod, rodent or other animal of public health significance capable of harboring or transmitting the causative agents of human disease (such as West Nile virus and encephalitis). Under certain circumstance insects, arthropods and other animals capable of causing direct human injury or discomfort, but not disease, are sometimes referred to as vectors.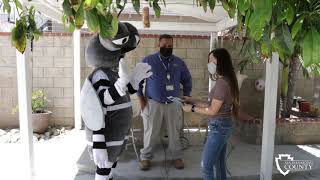 Mosquito and Vector Control Program: How to Submit a Service Request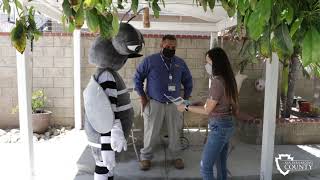 Control de Zancudos y Vectores: Cómo enviar una solicitud de servicio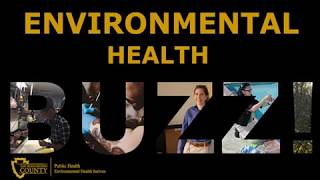 Environmental Health BUZZ! – West Nile Virus
Two invasive (non-native) mosquito species have recently been found in several California cities and there is a potential for them to spread into other areas of California. They are named Aedes aegypti (the yellow fever mosquito) and Aedes albopictus (the Asian tiger mosquito). Unlike most native mosquito species, Aedes aegypti and Aedes albopictus bite during the day. Both species are small black mosquitoes with white stripes on their back and on their legs. They can lay eggs in any small artificial or natural container that holds water.
Want More Information?
Visit the California Department of Public Health for more information about Aedes aegypti and Aedes albopictus mosquitoes.
Zika virus is transmitted by Aedes aegypti mosquitoes (yellow fever mosquitoes) and Aedes albopictus mosquitoes (Asian tiger mosquitoes). These mosquitoes are not native to California. However, since 2011 they have been detected in several California counties. An Aedes mosquito can only transmit Zika virus after it bites a person who has this virus in their blood. Thus far in California, Zika virus infections have been documented only in people who were infected while traveling outside the United States or through sexual contact with an infected traveler. To date there has been no local mosquito-borne transmission of Zika virus in California.
Zika virus is not spread through casual contact, but can be spread by infected persons to their sexual partners. Zika virus infection in pregnant women can cause birth defects and other poor pregnancy outcomes. Additionally, there is an association between Zika and Guillain-Barré Syndrome (GBS), a disease affecting the nervous system.
Want More Information About Zika?
Visit the California Department of Public Health for more information about Zika.
Help protect yourself and the community against West Nile Virus.
Unmaintained pools grow algae and bacteria, causing the water to appear green, and become ideal habitats for mosquito development. Depressed housing markets and foreclosures have led to many neglected swimming pools in this County. One single neglected swimming pool can breed millions of mosquitoes that can infest entire neighborhoods, putting residents at risk for West Nile virus.
What Can Vector Control Do?
Work with a realtor, or property owner if necessary to address the mosquito breeding hazard
Drain the swimming pool at cost to homeowner so it does not breed mosquitoes
Put a pesticide in the pool that inhibits or kills the larvae
Provide information that will help you decide how to manage the pool so no more mosquitoes are produced
What Should I Do If Someone I Know Has A Neglected Swimming Pool?
The Mosquito and Vector Control Program (MVCP) is offering FREE mosquito fish to all County residents within MVCP's jurisdiction. These mosquito fish are to be used on private property to reduce the potential for mosquito breeding. One request may be made per year for each household. A valid form of California identification, a utility bill or other official document indicating residence is required to verify jurisdictional residence. Determine if you are within MVCP's jurisdiction.
To Receive Mosquito Fish
Contact Environmental Health Services to schedule an appointment to stop by our office and complete a Mosquito Fish Request form.
NOTE: Distribution of mosquito fish is subject to availability.
Certain species of birds are very susceptible to West Nile virus and often die from it. Reporting dead birds and squirrels is a very helpful tool to our disease surveillance and monitoring efforts. The Mosquito and Vector Control Program and the California Department of Public Health use dead bird reports to help identify increased West Nile virus activity in an area.
What Should I Do if I See a Dead Bird?
If you see a bird that has been dead for less than 24 hours, please call 1-877-WNV-BIRD (1-877-968-2473) or report it online.