Housing and Lodging
What we do
Apartments, bed and breakfasts, and motels/hotels are inspected for environmental health hazards. Environmental Health Services (EHS) applies appropriate enforcement for substandard housing to assure property assessment or living conditions.
Hotels / Motels / Bed and Breakfast
These facilities go through a housing inspection where rooms are checked to ensure the safety and sanitation of these facilities. They are inspected for cleanliness such as proper cleaning and disinfecting practices, clean bedding, waterproof mattress cover and clean rooms. These facilities are also inspected for their safety features like smoke detectors, carbon monoxide detectors, hot and cold water, and window screens.
These facilities are also inspected to address public complaints.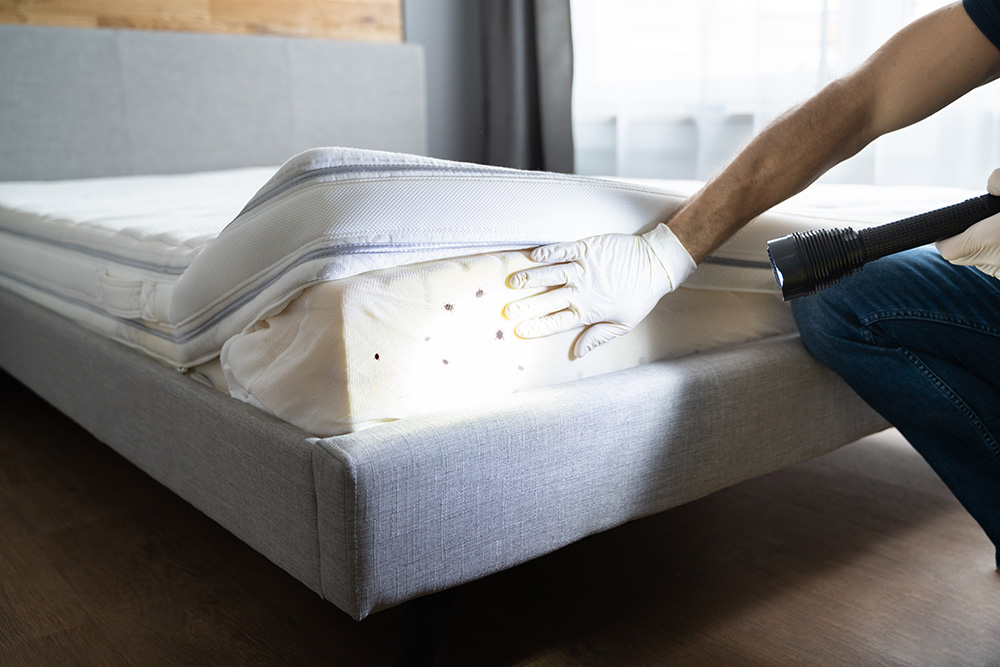 Bed Bugs
Bed bugs are frequently found in or around areas where people sleep. For information on how to eliminate, prevent, or reduce the spread of bed bugs, please click here.
Organized Camps
Organized Camps are recreational and educational places to enjoy overnight stays. Here in San Bernardino County we have camps and the EHS inspection program ensures that the camps are maintained and operating safely so that everyone has a safe and enjoyable experience.
Our inspection team reviews the camps quality of:
Food serving and kitchen practices
Swimming pools, bathing sites, and water systems
Housing accommodations and emergency evacuation plans
Plumbing facilities and water systems
Potential vector concerns
Infirmary records
Food Safety Courses
Food Handler Training and Test
Organizations that operate at camps longer than 2 weeks must have their food handler staff obtain the San Bernardino County Certified Food Handler card.
Organized Camp Food Safety Training
Volunteers and/or staff that handle food and/or food contact surfaces at organized camps for 2 weeks or less are encouraged to take the "Organized Camp Food Safety Training" course. This course is intended to train the public on how to keep food safe and prevent the spread of foodborne illness while using our Organized Campgrounds. Upon successful completion of this course, participants will receive a certificate of completion and will have the opportunity to obtain and print a variety of food safety posters.
NOTE: This module will not provide you with a Food Handler Card. If operating more than 2 weeks, please refer to the Food Handler Training and Test to obtain an official Food Handler Card.
Detention Facilities
EHS inspects several areas of a detention facility annually to ensure sanitary conditions.
Our inspection team reviews detention centers for:
Food serving and kitchen practices
Housing accommodations
Laundry accommodations
Record review
Apartments
Multi-unit residential buildings (3 plus) are inspected to ensure safe, sanitary, and habitable conditions. Our service area for apartment inspections include unincorporated areas, Yucca Valley, and Chino Hills.
Our inspection team reviews apartments for:
Potential physical hazards
Levels of sanitation
Signs of infestations
Presence of smoke and carbon monoxide detectors
Lead Resources and Links
Have questions about Childhood Lead Poisoning? Contact the Childhood Lead Poisoning Prevention Program at 800.722.3777 or visit their website.
Mold
You should be concerned about mold in your home if the mold growth is extensive and/or can't be controlled by using disinfectants. Exposure to high airborne mold spore levels may lead to certain health problems. Additionally, mold can cause structural damage to various components in your home.
Allergic reactions are the most common health effects associated with mold exposure. Common symptoms of mold exposure may include respiratory problems, nasal and sinus congestion, burning eyes, watery eyes, reddened eyes, blurry vision, coughing, nose and throat irritation, skin irritation, shortness of breath, possible fever, and central nervous system symptoms such as memory problems, mood changes, and constant headaches.
Environmental Health Services does not test or inspect for mold. You can visit the National Safety Council or Environmental Protection Agency (EPA) websites for additional information on the symptoms of mold exposure.
Additional general information on molds can be obtained from the following websites: